How BMW XDrive Devours Denver Blizzards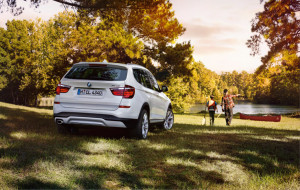 Let's face it, this weeks' Denver blizzard was fairly unexpected. With more snow on the way for Saturday, all eyes are intently focused on getting around through the weekend, especially for those heading out on spring break. What if your vehicle had the capability to, up to the laws of physics, blast through everything up to and including Mother Nature's worst? Read on to find out how BMW xDrive devours Denver blizzards, Rocky Mountain roads, and so much more.
Trickling its way into BMW's lineup in the mid-2000s, the revolutionary xDrive all-wheel-drive system is more than a simple part-time system. Most current xDrive iterations power all four wheels at all times, with a 40/60 front/rear power distribution under normal driving. This translates to enhanced handling and stability characteristics on dry roads and at higher speeds. When called upon, xDrive can channel up to 100 percent of the vehicle's power to either axle, offering tailored traction on any surface.
Yesterday's snowstorm was a perfect example, as this author attempted to remove his xDrive-equipped BMW from its parking spot. Snow drifts piled high along the rear bumper and both sides of the car, so we did our best to assess the situation. Ultimately, we chose to be adventurous and allow xDrive to work its magic, surmising that if we got stuck, we had shovels, salt, and sand at the ready. We put the car in reverse, checked our blind spots, and gave it a shot.
Before we delve into what happened, let's explore how BMW's Dynamic Stability Control (DSC) works with xDrive across three separate modes to keep you moving. In normal mode (at each startup), DSC continuously monitors several parameters to minimize wheel slip and enhance stability. When extra slippage is desired – for example, when navigating deep ruts or drifts – simply press the DSC button once, and Dynamic Traction Control (DTC) is activated. For maximum wheel slip, DSC and DTC can be completely deactivated by pressing and holding the DTC button for 4-5 seconds.
Back to the parking spot, we enabled "DTC" mode, allowing the car a bit more slippage while still keeping us on our intended path. Once the snow began piling under our BMW's back end, the car lost momentum, and we feared the worst. Easing the throttle down a bit further, xDrive's magic began to work. The car shuffled a majority of its power to its front wheels, "pushing" the BMW's back end over the snow mound. Once the front wheels became stuck, power was shifted rearward, and the back wheels "pulled" the front the rest of the way out.
It's something you need to experience first-hand to really appreciate. We've been BMW owners for over 10 years, but have never encountered a more appropriate situation for xDrive to work its magic. With 0.9% financing for up to 72 months on every 2016 BMW and unbeatable zero-due-at-signing lease rates, there's never been a better time to visit our showroom and take a test drive. We're open Saturday from 9am-9pm, so take advantage of the rough weather and see for yourself what BMW xDrive can do for you.