By: Stephen Daubert
Soccer moms have evolved over the years, from the original mini-van and orange slices to the massive, gas guzzling SUVs of today. The new SUVs that patrol the roads have become all too common in todays traffic infused world, offering very little in uniqueness and fuel economy. BMW has broken away from the pack to lead the charge towards a better fuel conscious SUV with the new 2013 X5.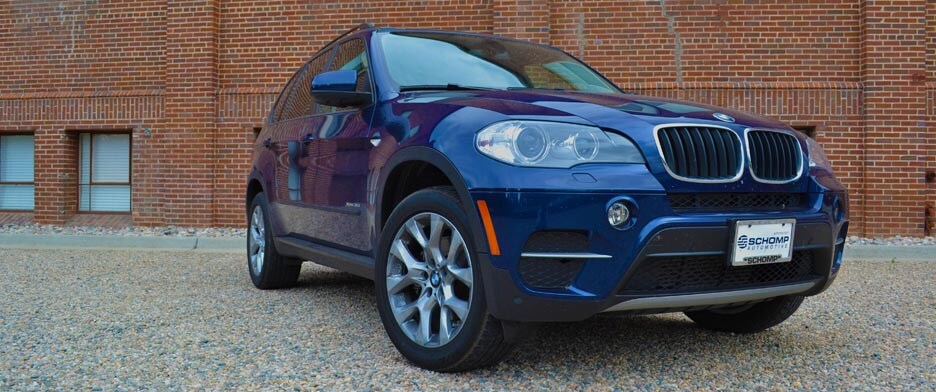 Two turbos, a brake energy regeneration system and an 8 speed automatic transmission all help to put the new X5 leaps and bounds ahead of the competition. With 300 horsepower on tap and an all-wheel drive system that rivals most rally cars the new X5 will shuttle your soccer players through any weather condition. Now the new X5 is not all fuel and soccer minded, it comes with a few slick features that will have any connoisseur of fine automobiles lust after it. Coming equipped with an all-wheel drive system with a rear wheel bias keeps BMW's motto of "The Ultimate Driving Machine" alive, while still safely conquering Colorado winters.

With a tough but luxurious interior the 2013 X5 with keep you comfortable with swanky features like traffic alerts and a start-stop function which helps save fuel. All of these features combine to make an inviting interior suited for every situation life throws at you. The new X5 continues to break away and blaze its own trail by creating an interior from the finer materials in life, which offers a refreshing alternative to the plastic blocky interior of today's gas guzzlers.
Driving the new X5 gives you a sensation that very few other big SUVs offer. With every car marker joining the SUV game including Porsche, VW, and Audi, BMW had to rise above and make the new X5 the yard stick. The overhaul in design, performance and fuel efficiency from the past model supports BMW's goal in becoming fuel conscious while remaining performance oriented. Managing 24 mpg over 300 miles of city and highway driving is not an easy task for most Hondas especially the new X5, but with the new TwinPower Turbo technology the new X5 accomplished what other SUV makers thought was impossible, making a stylish, eco friendly, performance driven SUV.